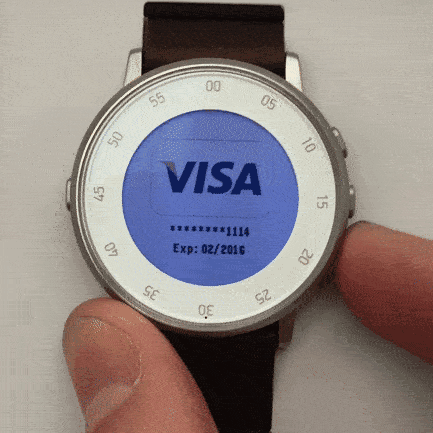 Partnering with existing brands and manufacturers is a very smart path to success for anyone contemplating entering the hardware business. We're starting to see more of this across various crowdfunding campaigns, because it can place the "heavy-lifting" part of hardware development on the shoulders of proven partners who have both the processes and costs under control – two factors which have quickly sunk many a product development team.
On today's show, I speak with Michael Orlando (CEO) and Steve Kurtz (Head of Product) of Fit Pay, a payment platform company, that has shrewdly partnered with renown smartwatch company Pebble, to make NFC payments possible with the Pebble watch.
Their Pagaré Smartstrap allows users to make NFC payments at millions of retail establishments with just a swipe of your wrist. All of the technology is contained in the watchband, and it even includes an innovative USB charging jack, built into the end of the strap. The Pagaré automatically goes into password-protection mode overtime the watch comes off your wrist for seamless security.
Listen in as Michael and Steve describe how they came to work with Pebble and how their partnership may lead to a potential brand integration in the future.
Podcast: Play in new window | Download (Duration: 16:18 — 18.6MB) | Embed