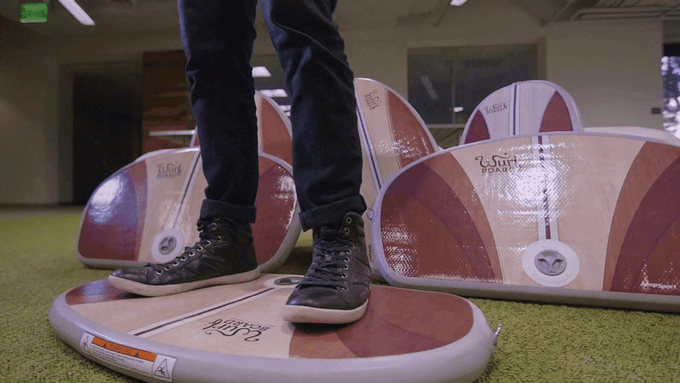 Stand-up desks have become the new standard in many office environments, and anyone who has one can also attest to the fact that while standing may be better than sitting, it still poses issues with, well, standing…
Enter another entrepreneur who just can't sit by and wait for others to solve the world's problems – Mark Publicover (who also invented the trampoline safety net, when his own children were bouncing off their trampoline), noticed that there was nothing really designed to help those who were standing in one place all day keep their feet, legs and core active. When he saw an inflatable paddle board one day, he realized that it provided the perfect amount of bounce and support he thought would work for his idea, and the "Wurf Board" was born.
Listen in as Mark describes his experience with one of the nation's largest retailers, who bumped him with a cheap, rip-off of his trampoline product, and how that eventually led him to continue building quality products and launching the Wurf Board on Kickstarter. He also talks about MadHatter PR (which appears to now be Launch Lab) helped him positions his crowdfunding launch for success.
Podcast: Play in new window | Download (Duration: 15:08 — 17.3MB) | Embed