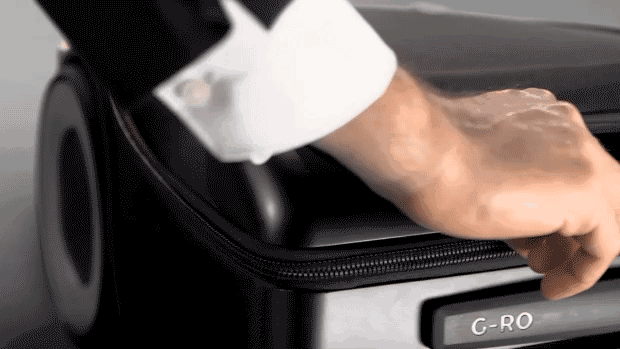 It's about time someone took a close look at travel bags. Sure – there are hundreds of different roller-bags, but they're all basically knock-offs of each other, with little or no innovation or improvement in functionality, not to mention looks or design.
It took my friend Ken Hertz (a top LA-based entertainment attorney whose clients include Mark Ronson and Will.i.am) and his co-founder, Netta Shalgi (who discovered he had designed Ken's favorite coffee table!) to put their heads and resources together and create a sexy piece of luggage that not only looks great, but will improve the way you travel. I've talked before about how crowdfunding is making rock stars out of industrial designers, and Netta is another great example of this.
Their product is the G-RO, and it's designed to be the most efficient and ergonomic carry-on there ever was. Patented large-diameter wheels handle rough surfaces and stairs with aplomb, and aircraft-grade polymer panels and large YKK zippers mean this bag can stand up to years of use. The Lifetime Warranty confirms the confidence behind the build quality and makes the G-RO a great value.
The Kickstarter campaign just passed the $1M mark this morning, and is at about 10 times it's original funding goal, with just under 3,000 backers. (It helps that some of Ken's celebrity clients have mentioned and backed the campaign themselves).
Listen in as Ken and Netta describe how they came together to disrupt the carry-on luggage market, their thoughts on Kickstarter as the Uber of the crowdfunding space, and used their combined skills and resources to build a super successful $1M + campaign.
Podcast: Play in new window | Download (Duration: 20:57 — 24.0MB) | Embed