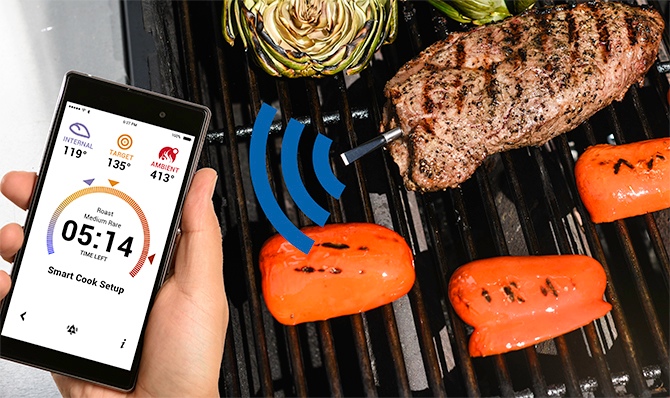 You knew it was only a matter of time – technology now gives you the ability to cook your meat to a 1 degree temperature accuracy, and send you an alert when it's done! What would you call it? The MEATER, of course! Gone are those days of tough, overcooked steaks or undercooked chicken. Spawned from a couple of guys who admittedly suffered from a lack of grill-skills, the MEATER can make anyone look (and taste) like an expert griller.
On today's episode, I talk with Joseph Cruz and Teemu Nivala, who are the co-founders of Apption Labs, and creators of the MEATER. Their background working together for many years in creating and delivering electronic devices for a major electronics manufacturer gave them the contacts and knowledge to bring their own product to life on Kickstarter, where they've raised more than $650,000 from about 5,300 backers.
They accomplished this all without major press coverage and attribute much of their success to their time zone differential (Joseph is in LA, while Teemu is in the UK), so they can bring the hustle 24/7. They've also recently brought on online marketing firm, Funded.Today (featured in Episode 009), to help them ramp up their campaign.
Listen in, as Joseph and Teemu explain how their relationships helped them through the manufacturing process, and how much preparation they took in setting up their Kickstarter page to launch their successful campaign.
Podcast: Play in new window | Download (Duration: 20:58 — 24.0MB) | Embed